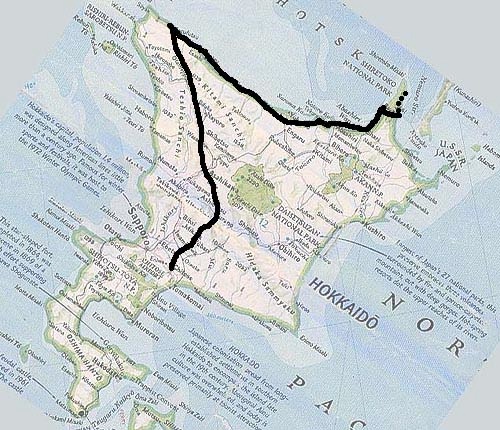 Since this route was essentially designed to fill in the blank spaces of the Hokkaido map that were not covered by the other two Hokkaido routes, it may seem a little awkward as a route. However, there is minimal overlap; this route intersects the first
Cross-Hokkaido
route at a couple of points (notably Asahikawa and Shiretoko); since that route ends in Shiretoko, there's one short section of repetition. However, on that trip we stopped at Shiretoko, while on this one we go over the Shiretoko Pass to Rausu, with an optional leg up the coast as far as you can go. The northbound first half of this route also parallels the
North Hokkaido
route, and at a number of points it's possible to switch from one to the other if you desire.
Also, since the North Hokkaido route went to Japan's northernmost point, Soya-misaki, this route goes only to Lake Kuccharo which is 29 km down the coast; there doesn't seem to be anything of particular note in the short stretch between these two points.

This route stops in Rausu because of time constraints; even just the route shown here takes more than a week to cover (Hokkaido is a very big island!). Eventually we'll try to do one more route that covers the south shore around Erimo-misaki, and possibly another shorter one that goes from the Shakotan Peninsula (east of Otaru) down along the coast to Hakodate. Naturally, all these routes constitute only basic suggestions; the possible variations are infinite.